Circuit Breaker Refurbishment
Challenge

Utilities are faced with obsolescence, lack of parts availability, increased maintenance costs and reliability issues for vintage circuit breakers.
Solution
Framatome's Total Breaker Solutions Program can help — with high quality, reliable solutions that also reduce lead times and lower costs. From new replacement breakers, reconditioning or repair, parts supply to maintenance, Framatome's Total Breaker Solutions are custom designed to fit your needs and to improve your performance.
For new replacement breakers, Framatome can support all project phases from conceptual design, detailed design, implementation, equipment qualification, commercial grade dedication, documentation, training, study and evaluation.
Original Equipment Manufacturer Relationships
Through our relationships with industry-leading Original Equipment Manufacturers (OEMs), Framatome works directly with the OEMs in support of new breaker supply process as well as for reconditioning and parts supply. Our relationships include proprietary information and design access agreements. Framatome uses OEM parts and up-to-date drawings for assurance that no fraudulent parts enter the plant.
Commercial Grade Dedication and Equipment Qualification
With more than 20 years of commercial grade dedication experience, Framatome offers industry-leading quality in commercial grade dedication services. Fully aligned with EPRI's latest "Guideline for the Acceptance of Commercial-Grade Items in Nuclear Safety-Related Applications" (2014), our commercial grade dedication services give you the best value by doing it right, the first time. We have a Center of Excellence for Electrical Commercial Grade Dedication in Cranberry Township, Pa. In addition, Framatome provides world-class seismic and environmental qualification.
Maintenance Interval and Life Extension Solutions Program
The Framatome Total Breaker Solutions team includes expertise in breaker design, maintenance and functional application; nuclear power plant safety system design licensing, regulatory compliance and continuous improvement; qualification testing and commercial grade dedication.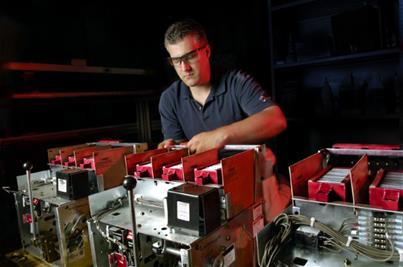 Customer benefits
Custom solutions to address obsolescence and improve reliability
OEM relationships
Support for utility item equivalency evaluations or design change packages
Industry-leading quality in commercial grade dedication services
Library of qualification test reports
Comprehensive Certification and Documentation Packages
Maintenance Interval and Life Extension Solutions program for comprehensive preventative maintenance
Reduce lead times and lower costs
Molded case circuit breaker and maintenance parts/kits stocking programs
As part of our commitment to your long-term success, Framatome has developed the Maintenance Interval and Life Extension Solutions program. Encompassing all aspects of a comprehensive equipment qualification program, the program includes enhancements to breaker design, material aging tests and analyses, maintenance programs and life extension methodology to maximize the value of your assets, including new breakers, refurbishments and parts kits.
The Framatome team has been hard at work expanding the program. To that end, we have now extended our program to simulate 25 years of circuit breaker aging. The Framatome team looks forward to bringing you innovative solutions for safe and reliable operations.
Your performance


is our everyday

commitment