Framatome's MILES Program has now been extended to simulate 25 years of aging

Grease degradation is a well-known failure mechanism for medium and low voltage circuit breakers in nuclear applications, and Framatome's Maintenance Interval and Life Extension Solutions (MILES) Program is the solution.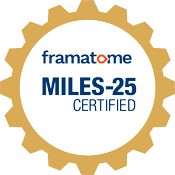 To improve the safety and reliability of circuit breakers, Framatome's Total Switchgear Solutions team has been hard at work expanding the MILES Program. To that end, we have now extended our program to simulate 25 years of circuit breaker aging: MILES-25.

Framatome's circuit breakers lubricated with advanced synthetic grease maintained consistent and acceptable functional test results throughout 25 years of simulated aging. When supplied with our MILES-25 certification, circuit breakers carry justification for extending maintenance intervals and achieving related cost savings, while improving overall safety and equipment reliability.
For more information or a copy of our recent MILES-25 webinar, please contact:
[email protected].