ASCO Hydramotor Parts and Services
The only ASCO authorized service center for overhauling and repairing nuclear Hydramotor actuators
Challenge
Reliable Hydramotors are critical for valve and damper control in nuclear power plants. Plant operators need a reliable supply of equipment and parts as well as ongoing servicing.
Solution
As the Master Distributor for Automatic Switch Company (ASCO) nuclear products, Framatome provides comprehensive technical support, complete units and replacement parts for AH90 and NH90 Series Hydramotor actuators. The Framatome Nuclear Parts Center (NPC) has an extensive inventory for consistent rapid turnaround during scheduled repairs and emergencies. We provide 24/7 parts availability via our dedicated NPC Customer Inquiry System on the internet.
In addition, the NPC is the only authorized ASCO Service Center for overhauling and repairing the AH90 and NH90 Hydramotor actuators for the nuclear industry, and is the only test facility that can certify refurbished units to the original nuclear qualification. We also offer various programs to meet individual plant requirements for servicing these units. Our Hydramotor Training Program is part of the Framatome commitment to support the nuclear industry.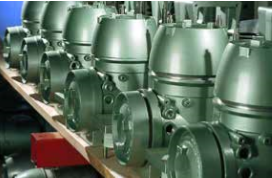 Our comprehensive technical product support includes custom actuator configuration for your specific application.
Customer benefits
• 24/7 parts availability
• Fulfill plant requirements with service programs
• Meet your specific needs with customized training and certification with a wide range of training subjects
Training options include:
• General description
• Configurations and model numbering system
• Basic components
• General design specifications
• Significant configuration differences and options
Operation and Maintenance (for all styles)
• Basic components
• Principles of design and operation
• Unit storage, check-out and installation
• Troubleshooting operational problems
• Unit disassembly and assembly (includes hands-on work
with full-sized units)
• Testing
Your performance


is our everyday

commitment